TMS FNC UI Pack
Powerful, feature-rich UI controls for 4 frameworks and 5+ operating systems
---
Release
TMS FNC Components can be used simultaneously on these frameworks
TMS FNC Components can be used simultaneously on these operating systems/browsers
TMS FNC Controls can be used simultaneously on these IDEs
Includes access to TMS FNC Core
---
Features
---
Compact light-weight WYSIWYG editor for formatted text
TTMSFNCRichEditor
Light-weight WYSIWYG editor for formatted text
Formatted text with bullets, hyperlinks, images, indenting and aligned paragraphs
Functions for merging, highlighting text, undo/redo and clipboard operations.
Stores its text natively in the .RTE file format.
Possibilities to load from .TXT, .RTF, .HTML and .RTE
Export to .TXT, .RTF, .HTML, .RTE and PDF
Separate rich editing/formatting toolbars
Emoticons support
Support for BitmapContainer images
Autocorrect : custom auto-correct actions
Separate ToolBar Popup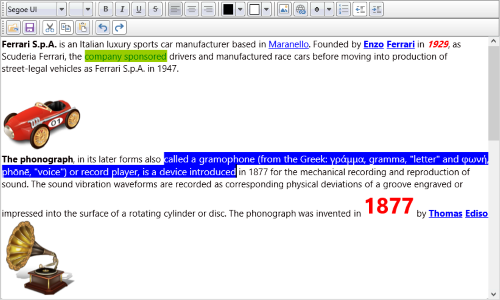 Click image for more screenshots.
TTMSFNCRichEditorHorizontalRuler
Ruler control connected with TTMSFNCRichEditor
Intuitive and familiar handling
Set the margins of page,
Indentation of text
Add tabs

TTMSFNCRichEditorPrintIO
Specific customization for the export of the TTMSFNCRichEditor to the printer
Partner Program
Create your own FNC components and become an FNC Certified partner.
Help
Testimonials
No testimonials available yet for this product.
---
Trial downloads
Trial version: limited to WEB, FMX and VCL. For mobile device deployment, the trial version supports deploying in release mode only.
Buy online
TMS FNC UI Pack
---
for Delphi XE7, XE8, 10 Seattle, 10.1 Berlin, 10.2 Tokyo, 10.3 Rio, 10.4 Sydney, C++Builder XE7, XE8, 10 Seattle, 10.1 Berlin, 10.2 Tokyo, 10.3 Rio, 10.4 Sydney, (Prof/Enterprise/Architect) , Lazarus/FPC
---
View licensing FAQ
---
License for commercial use: Single developer license, Small team license, Site license
Includes full source code
Free 1 year updates and new releases
After 1 year, a 70% discount renewal is offered for a one year extension (offer valid for 30 days)
Free priority support through email and forum

---
This product is also available in the following bundle(s):
Bookmarks