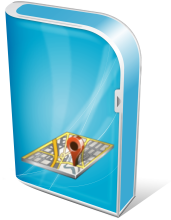 TMS WebGMaps
VCL Component with extensive configurability for integrating Google Maps in Delphi & C++Builder
Feature overview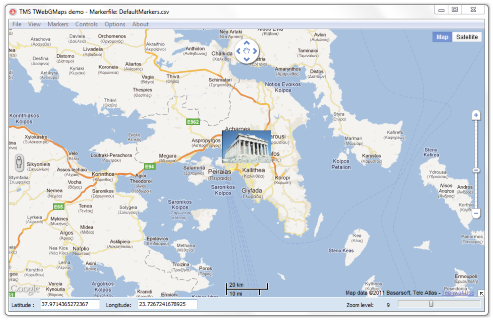 Click image for more screenshots.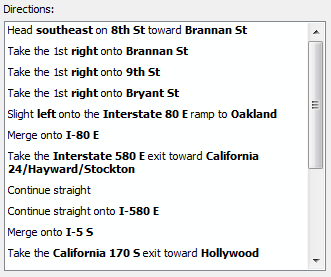 List showing steps in a route with HTML formatting

Edit control with autocompletion while typing addresses
Different map modes are available: default road map, satellite view, hybrid view and terrain
Extra map information can be displayed: Bicycle View, Panoramio (pictures of interest) information, Traffic information
Get & show directions on the map (Delphi XE or newer Delphi releases only)
StreetView can be selected
Position markers may be added to the maps, including default Google balloon markers and custom image markers.
Moving over a marker can display a hint with the marker title information
Extensive configuration options over the different Google maps controls are available: MapType control, OverViewMap control, Pan control, Scale control, StreetView control and Zoom control.
Image files can be created of the displayed map. Images can be saved in different formats: .BMP, .JPG or .PNG
Different mouse and keyboard options to enable/disable: mouse or keyboard panning, mouse or keyboard zoom, mouse wheel scrolling
Capability to add polygons, polylines, circles, rectangles on top of the map
Capability to add labels with markers
Capability to show flight routes from point to point (based on longitude/latitude)
TWebGMapsGeocoding helper component to facilitate conversions between address and longitude/latitude coordinates
TWebGMapsLookupEdit helper component that provides auto completion while entering addresses
TWebGMapsDirectionList helper component to show steps in routes with HTML formatting
Terms of use
---
With the purchase of TWebGMaps, you are entitled to our consulting and support services to integrate the Google Maps service in Delphi or C++Builder applications and with this consulting and support comes the full source code needed to do this integration. As TWebGMaps uses the Google Maps service, you're bound to the terms of this Google service that can be found at:
It is the sole responsibility of the user or company providing the application that integrates the Google maps service to respect the Google terms and conditions . TMS software does not take any responsibility nor indemnifies any party violating the Google maps service terms & conditions.
Limited warranty
TMS software cannot guarantee the current or future operation & uptime of the Google maps service. TMS software offers the consulting and support for TWebGMaps in good faith that the Google maps service is a reliable and future-proof service. In no case, TMS software shall offer refunds or any other compensations in case the Google maps service terms/operation changes or stops.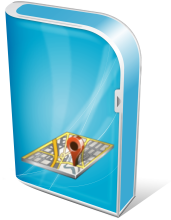 Buy online
TMS WebGMaps
for Delphi 2007, 2009, 2010, XE, XE2, XE3, XE4, XE5, C++Builder 2007, 2009, 2010, XE, XE2, XE3, XE4, XE5 (Prof/Enterprise/Architect)

View licensing FAQ
License for commercial use: Single developer license, Small team license, Site license
Includes full source code
Free updates for a full version cycle (from v1.9 to v2.8)
Free priority support through email, newsgroup and forum

Single developer license
for 1 developer
€ 95


Small team license
for 2 developers
€ 150

Site license
for unlimited
developers
in the company
€ 375

This product is also available in the following bundle(s):