Tuesday, November 12, 2013
This November 14 we'll be present on the
Embarcadero Event at Buenos Aires, Argentina.
The event is focused in mobile development with the new
Embarcadero Rad Studio XE5
. Along with many other interesting speeches, I will be giving a session about dealing with files in iOS and Android, and how to use TMS FlexCel to generate xls, xlsx, pdf or html files in a mobile device. If you are near Buenos Aires on this date, make sure come and say hello.
Adrian Gallero

This blog post has not received any comments yet.
Friday, October 25, 2013
The Brasil Delphi developer community is one of the biggest in the world. Many of our smartest and most enthusiast customers are based in Brasil and come up all the time with very innovative and creative Delphi solutions. Therefore, we're pleased that TMS software can be present at the
Brasil Embarcadero Conference
on October 31, 2013 in São Paulo. This conference is also one of the biggest, if not THE biggest with over 600 attendees.
Our TMS Aurelius lead, Wagner R. Landgraf will have a session there about the use the TMS Aurelius ORM in combination with the upcoming TMS XData product. We will also have a booth where you can learn more about our products for VCL Windows application development and meanwhile also our increasing number of tools and components for mobile cross platform application development for iOS and Android.
Finally, we will provide
15%
in our products for all attendants.
We look forward to meet you at the Brasil Embarcadero Conference and hear about your projects, your needs and answer your questions!
Bruno Fierens

This blog post has not received any comments yet.
Monday, October 14, 2013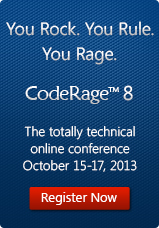 Join Embarcadero and software development experts from around the world this week at
CodeRage
– the totally free, totally technical, online conferences dedicated to technology and development.
On Thursday Oct 17, our colleague Wagner Landgraff is giving a presentation on our Delphi ORM
TMS Aurelius
and this introduction will help you quickstart using the TMS Aurelius framework for writing effective database driven Delphi applications in a productive way.
Bruno Fierens

This blog post has received 2 comments.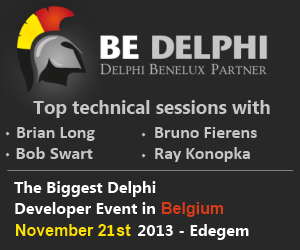 We're pleased to announce TMS software is platinum sponsor of the upcoming
Be-Delphi conference
on November 21 in Antwerpen, Belgium and the
Delphi Developer Days
on December 4,5 in London, UK.
The Be-Delphi conference in Antwerpen has its third edition this year with an impressive roster of speakers and ditto technical content. From
Embarcadero
,
Marco Cantu
will be present to introduce the new Delphi XE5, from USA, Ray Konopka from
Raize
software has an in depth session about generics. Delphi gurus from day 1,
Brian Long
,
Jeroen Pluimers
and
Bob Swart
are present as well. Brian Long talks about developing for Android, Jeroen Pluimers about the MVVM pattern in Delphi and Bob Swart about (dis)connected mobile datasnap.
But there is more, Mathias Dellaert talks about TVirtualInterface / TVirtualMethodInterceptor, Detlef Overbeek from the
Blaise Pascal magazine
talks about
Leap Motion
and we have Anton Vogelaar giving a session about Delphi for industrial control.
The TMS software team will be present with a booth and
Bruno Fierens
gives a session on consuming GEO services from Delphi.
As you can see, Be-Delphi 3.0 will be again a top technical conference packed with interesting talks and exciting subjects. The TMS software team looks forward to meet you there!
Shortly after, on December 4 and 5, Carry Jensen and Bob Swart bring the
Delphi Developer Days
and an extra day on December 6 devoted to a Delphi Mobile development workshop. No new technical subject is left untouched on the Delphi Developer Days. FireMonkey, FireDac, Gestures and touch, debugging, Datasnap, XML, JSON, threads, Android, iOS, ...
If you want to update yourself to the latest knowledge about Delphi, don't hesitate to register for the Delphi Developers Days as places are strictly limited!
Bruno Fierens

This blog post has not received any comments yet.
Tuesday, August 27, 2013
A short post this time with a tip for something that might be of interest to you in the near future for your software developments.
Everyone who's been using the Android emulator on Windows machine will know that it can be (unbearable) slow. Help is offered by
Intel
though with HAXM. The description reads:
The Intel Hardware Accelerated Execution Manager (Intel® HAXM) is a hardware-assisted virtualization engine (hypervisor) that uses Intel Virtualization Technology (Intel® VT) to speed up Android app emulation on a host machine. In combination with Android x86 emulator images provided by Intel and the official Android SDK Manager, HAXM allows for faster Android emulation on Intel VT enabled systems.
The download for HAXM can be found
here
.
Some more information on using HAXM is at :
http://fizzylogic.nl/2012/08/21/run-your-android-apps-in-highspeed-on-the-emulator/
.
We wish you happy Android coding!
Bruno Fierens

This blog post has received 1 comment.
Previous |
Next
|
Index