Thursday, September 22, 2016
In TMS VCL Cloud Pack v3.7, new components TAdvmyCloudDataConnection and TAdvmyCloudDataDataSet have been added. With these 2 components, access to structured data on the cloud via the myCloudData service becomes easier than ever.

TAdvmyCloudDataConnection
TAdvmyCloudDataConnection is a non-visual component that manages access to myCloudData. It works as the intermediator for the authentication and authorization to access myCloudData for one or multiple TAdvmyCloudDataDataSet instances. This means that via the TAdvmyCloudDataConnection at least a one-time authentication and authorization is done with myCloudData to obtain the access token and the TAdvmyCloudDataDataSet can then work through TAdvmyCloudDataConnection to use this access token. To let the TAdvmyCloudDataDataSet use the connection is as simple as assigning the TAdvmyCloudDataConnection instance to TAdvmyCloudDataDataSet.Connection, just like we are used to assign a TADOConnection to a TADOTable for example.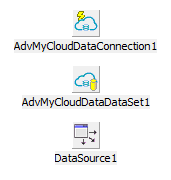 TAdvmyCloudDataDataSet
TAdvmyCloudDataDataSet is a wrapper as a dataset of a table in the myCloudData service. When a connection is provided, set either the name of the table via the Table property or the unique ID of the table via the TableID property. When a connection has been made (i.e. access token was obtained), setting the property TAdvmyCloudDataDataSet.Active to true will fetch the table data from the myCloudData table and present it as a TDataSet through a TDataSource to any DB-aware component in VCL or via LiveBindings in FireMonkey applications. Note that this approach works both at run-time and design-time, so we can work with the cloud data at design-time to configure our DB-aware controls connected to it.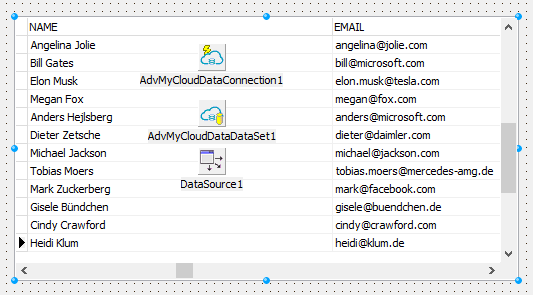 Dataset filter
An easy way is provided to perform basic dataset filtering. The TAdvmyCloudDataDataSet has a filter property which is presented as a collection of filter conditions. The filter condition consists of a field name, filter value, a filter condition logical operator and a filter comparison operator. The filter condition can be easily set at design-time where the dataset field can be picked and the values set.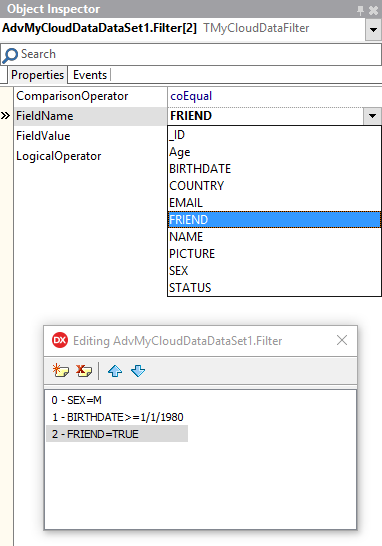 From here we can work with the cloud data in much the same way from our code on the dataset as Delphi developers have been doing all the time with datasets, i.e. insert, delete, update records.

Rich metadata
But with the updated myCloudData service, there is much more than this possible as myCloudData now offers rich metadata for its structured data. This rich metadata can be programmatically accessed, created and updated but also easily configured via the myCloudData web interface. We'll cover this in a follow-up blog focused on how we can benefit from this rich metadata, but here you can already glance over the web interface you can access from your myCloudData account: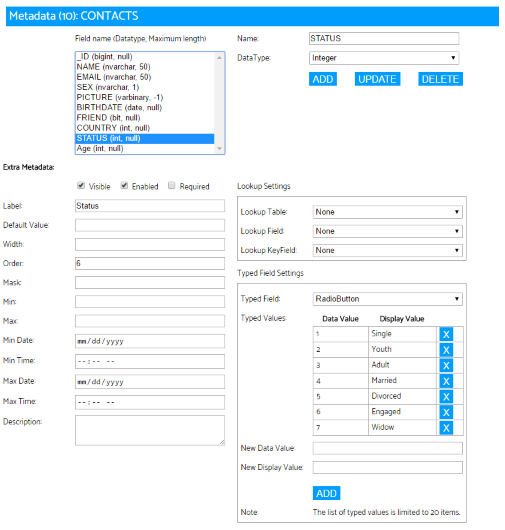 You can explore all this with a free myCloudData account. Create a new table via this account and you can use our TAdvmyCloudDataDataSetDemo application included in TMS VCL Cloud Pack to explore this.

Stay tuned for more!


Bruno Fierens

This blog post has not received any comments yet. Add a comment.
Tuesday, September 06, 2016
We're pleased to inform TMS FNC UI Pack beta v1.5 is available now for all TMS ALL-ACCESS customers. In this beta version we've added no less than

10 NEW components

! With TMS FNC UI Pack you only need to use 1 UI control set to master application development in VCL, FMX + LCL and target 5+ different operating systems.




What's new in the TMS FNC UI Pack beta release:
New: TTMSFNCGridDatabaseAdapter: adapter to connect the TTMSFNCGrid to any database
New: TTMSFNCToolBarPopup: popup version of the TTMSFNCToolBar
New: TTMSFNCRichEditorEditToolBarPopup & TTMSFNCRichEditorFormatToolBarPopup: popup version of the rich editor format and edit toolbar
New: TTMSFNCScrollBar: fully configurable scrollbar
New: TTMSFNCResponsiveList: responsive design list control
New: TTMSFNCSearchList: multi-column list with optional categorized items, pictures and text
New: TTMSFNCSearchEdit: editable version of the TTMSFNCSearchList
New: TTMSFNCHint: application / form wide HTML formatted hints
New: TTMSFNCURLBitmapContainer: bitmap container with the ability to download images from an URL
Comes with several new demos that demonstrate various features of the 10 new components we have added in this beta version.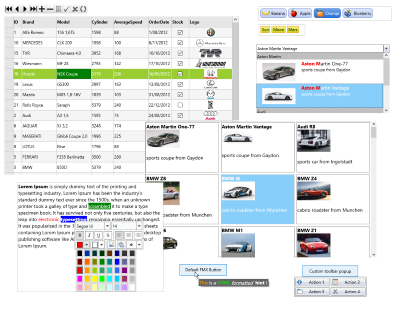 We're eager to hear your experiences with the beta version!
A link from where the TMS FNC UI Pack beta 1.5 version can be downloaded has been added on the 'My products' page for all TMS ALL-ACCESS users. We welcome all comments, feedback & suggestions via email.

With TMS FNC UI Pack, you can target 3 frameworks and 5+ operating systems. Therefore we hope to receive as much feedback as possible about the use of these components on several platforms (VCL Win32/Win64, FMX Win32/Win64, MacOS-X, iOS, Android, LCL Win32/Win64, Mac OS-X, iOS, Android, Raspbian, ... ) and several IDE's (Delphi XE7, XE8, 10 Seattle, 10.1 Berlin, C++Builder XE7, XE8, 10 Seattle, 10.1 Berlin, Lazarus 1.4.4 or 1.6 with FPC 2.6.4 or FPC 3.0).

We look forward to all your feedback!



Nancy Lescouhier






This blog post has not received any comments yet. Add a comment.
Thursday, August 25, 2016
We're pleased that in the month September we have again the chance to meet our customers, to show our products, to meet new developers who wishes to learn about our components & tools, ... on several upcoming events in Europe.

Bruno Fierens has also been invited as speaker, Bruno will talk about the challenges of creating cross-framework Pascal components. He will bring a session that discusses the differences between Pascal UI frameworks, how to build UI controls that can be used in the different UI frameworks and an introduction to the complex TMS FNC UI Controls that we have released so far. We will also show a sneak preview of a few brand new FNC UI controls that are currently in development.
An overview of the events:

Achmea Conference Center
Handelsweg 2, 3707 NH ZEIST
The Netherlands





FIAP
30 rue Cabanis, 75014 Paris
France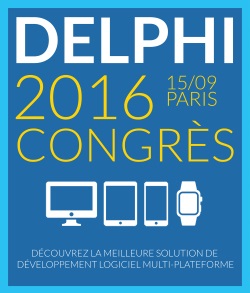 Mercure Hotel
Friesenstrasse 44-48, 50670 Köln
Germany





Congrescentrum
Blokhoeve 1, 3438 LC Nieuwegein
The Netherlands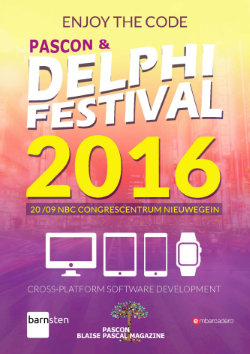 We're looking forward to see you at one of these events!



Nancy Lescouhier






This blog post has not received any comments yet. Add a comment.
Thursday, July 14, 2016
We're excited to present the newest edition of the TMS Component Pack v8.3, our pack of over 400 VCL UI controls to make powerful, feature-rich Windows applications with Delphi & C++Builder.

The TMS Component Pack first version dates back from 1998 when our customers started asking for a bundle of our grid component and growing number of additional VCL UI controls developed by then.

TMS Component Pack is as such 18 years in the making and it's a relentless job to keep fine-tuning existing controls to changing needs, changing UI requirements, new UI paradigms & themes, new feature requests and add create brand new controls. Both surprising and exciting is that during all these 18 years, almost on a weekly basis, new ideas come in from you and from our team for component features and new components. A lot of our customers using TMS Component Pack UI controls are as passionate as our team about getting exactly the right look & feel, behavior and capabilities from the controls.

With this new version v8.3 we have added the usual list of new features, improvements and fixes. You can always consult this list here. One especially bigger extension was drag & drop support, sorting & filtering in our supercharged multicolumn treeview control. But in this blog, I wanted to draw your attention to new controls added in this release.

First of all, there is the new TAdvSearchList / TAdvSearchEdit.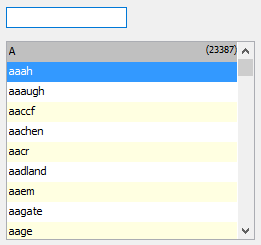 The design of this component is inspired by new paradigms in search controls featured mostly on websites. Websites like Amazon, AliExpress, Google, Facebook, Booking.com, Trivago, ... all help the user in search by filtered suggestion lists as you type. TAdvSearchList is the basis for such list and offers a multicolumn list with optional categorized items, pictures, text and description with items, a place to show a number of search results and various criteria to find a match from first character, anywhere in a word, in text only or text and description etc...

Where the list control can be easily hooked up to a separat edit control and perform its search & filtering, the TAdvSearchEdit has the list embedded in a dropdown and it features additional optional buttons for directly filtering per categories when categories are used. It can as such be configured as a simple list to more complex and attractive looking lookup lists like this example: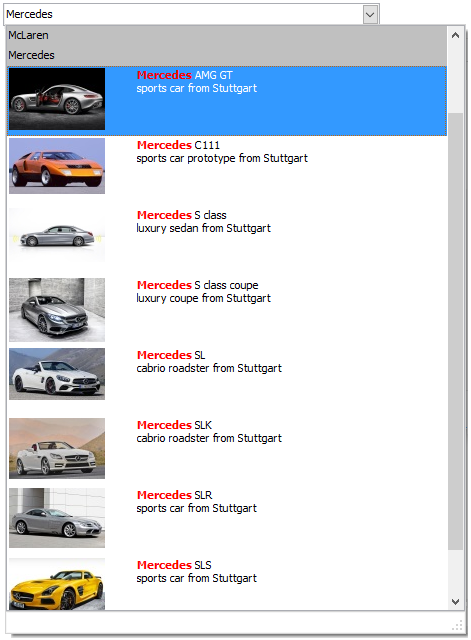 Second new control added as is TAdvResponsiveList (preview).

The TAdvResponsiveList is a VCL UI control inspired by responsive design techniques and bringing this paradigm to Windows controls.As is the case with browsers, where we want to offer the best experience regardless of the browser client area size, Windows applications can also benefit from adapting the control's look & feel and behavior to the control's size to ensure the experience with your application is optimal regardless of the size of the screen of the user or regardless of a user running your application in a small window just in a corner of his desktop.





In a nutshell, TAdvResponsiveList offers a variable number of conditions that can be set for rendering its content depending on the size of the control. This can range from the number of columns depending on the width, the number or rows depending on the height, the absolute or relative size of cells when the control is resizing etc... As each cell offers rendering of HTML formatted text and this HTML formatted text can be the result of a template and in the conditions, variable templates can be set depending on the condition, i.e. size of the control. This way, more or less detail can be shown in the control item depending on its size.
But the sheer flexibility of this control becomes apparent when TAdvResponsiveList instances can be used as a child control in a TAdvResponsiveList and both parent and child can have their set of conditions. Or when you can create your own control descending from TAdvResponsiveList that can have fully custom drawn items.
A first developers guide to TAdvResponsiveList is available now. With TMS Component Pack 8.3, you can explore and start using the control from today in your applications. It is for now still marked as being in preview as this is all new to VCL application developers and we're eager to learn about your thoughts, comments, feedback, ideas & suggestions for next iterations of TAdvResponsiveList.



Bruno Fierens








Since 1995, the year Delphi was born, TMS software has been creating components and tools for developers for 21 years now and in all these years, our offerings have grown significantly. From the beginning, we have focused on VCL UI controls but soon controls for IntraWeb and .NET were added. As soon as Embarcadero introduced the cross-platform FireMonkey (FMX) framework, we started to create UI controls for this framework as well. Around the same time, a product line to help you with your business logic, the TMS Business Subscription set of products was created. Then the explosion of cloud services came and we jumped on that bandwagon with our series of cloud components to make it dead-easy to connect & consume these cloud services. Recently, our newest line of UI controls, the FNC (Framework Neutral Components) was launched where the focus is on offering you one set of components, one learning-curve and the freedom to use the controls (simultaneously or not with a single source base) for VCL Windows applications, FMX cross platform applications with Delphi or C++Builder or take a different route with the free Lazarus IDE/FPC compiler and the LCL framework to target Windows, Linux, macOS, ...

We have long lost count of the number of components we have on offer and we have been wrestling a lot with trying to present our products as logically structured, easy to find and to discover as possible. With the introduction of our new website v5.0 end of May this year, a strong focus was on organisation per technology/framework with color coding of technologies for easy recognition. In the product popup accessible from the top menu, the organisation is more semantically, grouping by themes like grids, charts, cloud, ...

But long on our todolist was also a system to tag our components and make tag based search possible this way. Well, today, I'm happy to introduce our tag based search on our website. Our tag based search is not replacing regular text based search or navigation mechanisms per technology/framework or theme. It is just one more way, one more tool to help you find what you are looking for.

Note that from now on, our products display their tags at the bottom of the product page and tag based search can be started from clicking on these tags but is also possible from the product popup or regular search started from the top right corner.

To see the tag search in action, here is a sample where a search for a treeview control is done. The word treeview can be typed or picked from the tag list. The search returns the different products, nicely color coded per technology in what products we offer a treeview control: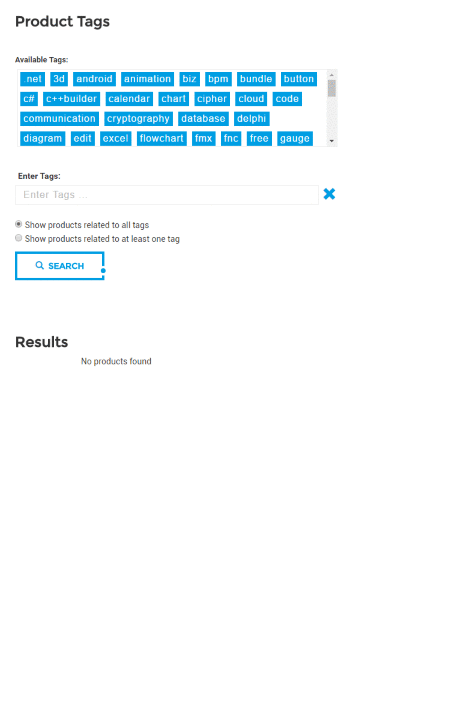 We hope this additional tool on our website will help you finding what you need faster. As time evolves and with your feedback, we'll further fine-tune & extend the tags. Let us know what you think about it and how you like it!



Bruno Fierens









Previous | Next | Index